SAON GRANATO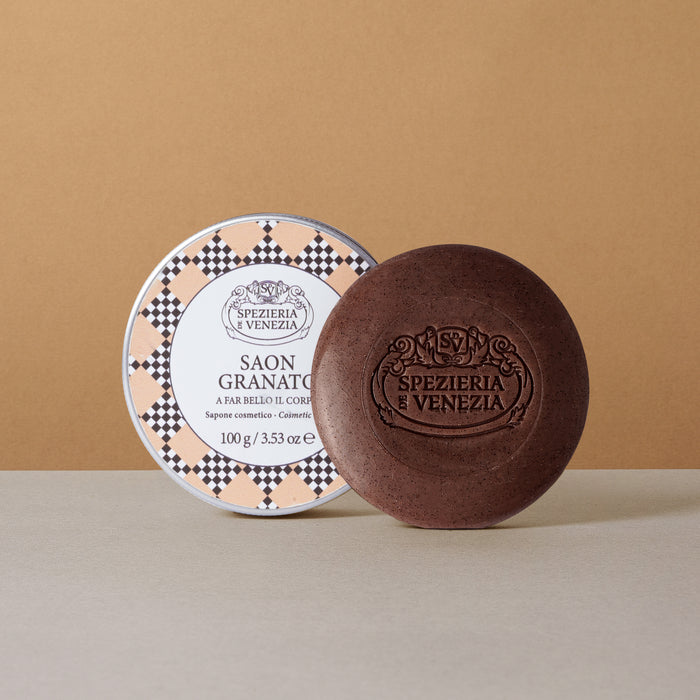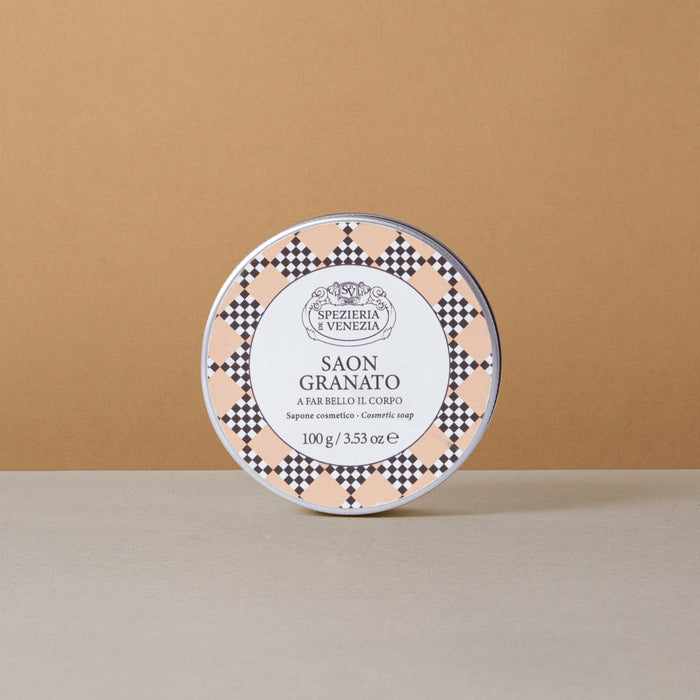 Cosmetic soap
"a far bello il corpo"
The term "granato" refers to the ancient Venetian soap making technique whereby grains of salt ("grani") were added to the base formula. This cosmetic soap contains sea salt and microgranules obtained from almond and hazelnut shells to produce a gentle exfoliating effect on body skin. The addition of olive and almond oils makes it kind to the skin, whilst the fragrance is granted by a middle Eastern scent, a combination of amber, storax, jasmine, spices and orange.
97.4% INGREDIENTS OF NATURAL ORIGIN. DERMATOLOGICALLY TESTED.
150 g | 5.29 oz
---
Rub gently on damp skin in the shower insisting on areas where exfoliation is required. We suggest to use two or three times a week. Develops a soft, velvety foam and renews the skin thanks to its gentle exfoliating effect. Leaves a pleasant scent on the skin. After use, store the soap in a dry place. Not to be used in case of known allergies to one or more of the ingredients.
SODIUM PALMATE, SODIUM PALM KERNELATE, AQUA, PARFUM, OLEA EUROPAEA FRUIT OIL, CORYLUS AVELLANA SHELL POWDER, MARIS SAL, PRUNUS AMYGDALUS DULCIS OIL, PRUNUS AMYGDALUS DULCIS SHELL POWDER, GLYCERIN, PALM KERNEL ACID, SODIUM CHLORIDE, TETRASODIUM EDTA, TETRASODIUM ETIDRONATE, BENZYL SALICYLATE.